Discover all the services that our team offers to make your life easier. Pulsar Matériaux does not limit itself to selling construction materials in Brussels, but also provides services to its customers to support them in carrying out construction sites and works.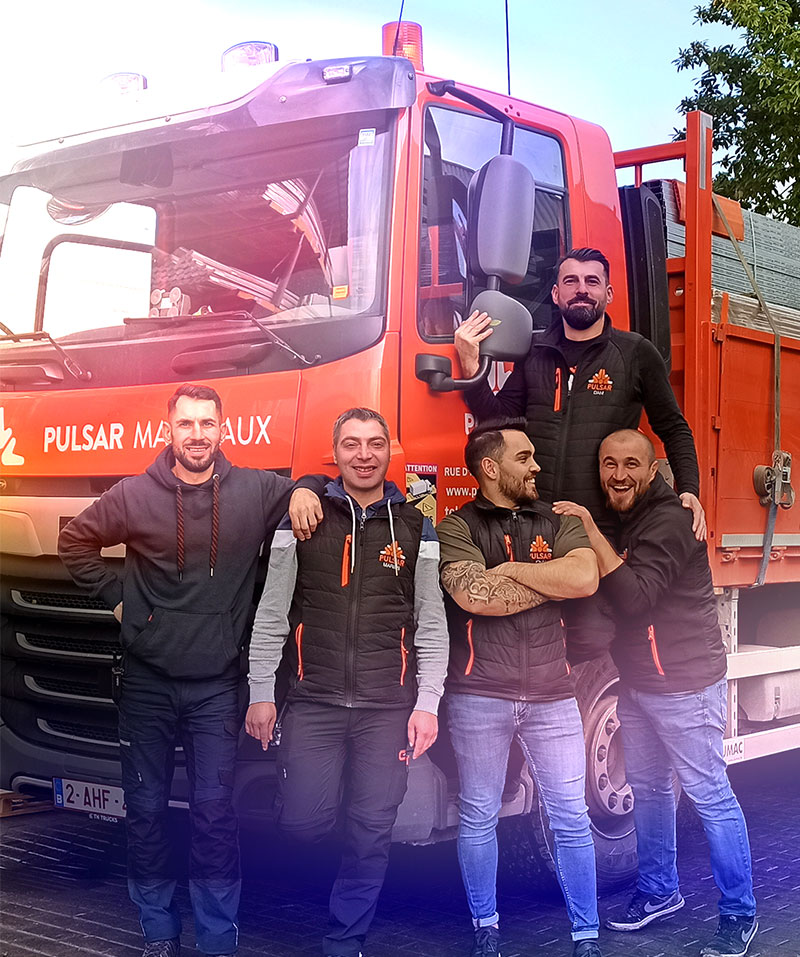 Our various services available to you
Our team of professionals is dedicated and offers you various services on a daily basis. In particular, we offer to make the paint color of your choice from an infinite number of variations, deliver your goods directly to the site or even serve you a tasty dish in our PulsBAR in Brussels. Consult below the services offered by Pulsar Matériaux.
Paint and plaster shades
Toutes les teintes de peinture intérieure et extérieure sont disponibles sur demande. Nous possédons des machines à teintes offrant des milliers de couleurs possibles et imaginables. Ce service est également disponible pour les crépis et tout autre type d'enduit.
Transport & delivery
Nos larges stocks vous assurent une disponibilité immédiate et une livraison rapide. Notre site bénéficie d'un grand parking et d'une certaine facilité d'accès. Pour faciliter l'approvisionnement, un service de livraison direct sur chantier est à votre disposition. Nous disposons de différents véhicules adaptés aux contraintes de votre chantier: camionnettes, chariots embarqués, camions grue et camions grue girafe (petit et grand format), et semi-remorques. Nous vous proposerons toujours la solution de livraison la plus appropriée, au plus près de vos besoins, et en toute sécurité !
Pulsbar
Pulsar Matériaux has a restaurant where you can savor all kinds of delicacies. The Pulsbar is open to customers on demonstration days. A lunch + drink is then offered, free of charge, to all our customers.
Benefit from the services of construction professionals
At Pulsar Materials, we do not just sell construction products and materials. We offer a complete service with technical advice according to each customer need, tailor-made quotes, demonstrations and after-sales service to satisfy each of our customers. Discover below still other services that you can benefit from with us.
Technical advice
Thanks to their expertise, our sales staff will be able to support you in carrying out your projects and guide you in your choice of materials. Whether on site, at the counter or in each department of our store, qualified staff is at your disposal to guide you towards the technical solutions best suited to your development, construction or renovation projects. Our technicians also travel to the site.
Self-service
Tools, flooring, plumbing, tiling, paint, bathroom furniture, hardware… many professional quality products are also available for self-service in our store. They are then accompanied by their technical description and instructions to guide you. Thus, you choose freely and you save time.
Account opening
In order to facilitate your purchases and to benefit from deferred payment, we can open an account in your name (subject to acceptance of your file by credit insurance). Do not hesitate to ask us for more information by contacting us directly by phone, email or by going directly to our store.
After sales service
In addition to offering you ultra-personalized sales support, Pulsar Matériaux places great importance on your satisfaction, even after your purchases. You thus benefit from a real follow-up of your orders and in the event of modification, we adapt in order to solve your possible problem as soon as possible.
Design office
Whatever the size or nature of your project, we can draw up an estimate based on your plans and specifications. Our collaborators are at your disposal to establish a precise costing which will allow you to concretize all your ideas.
Container rental
If you need to dispose of various types of waste such as debris, soil, wood chips or any other kind of material, we suggest you rent our containers.
Mortar silo
You can obtain masonry mortar or screed directly from our site. Everything is available ready to use, every day from 6 a.m. until 5 p.m. without interruption (except Sundays). Our employees are at your disposal for any request for information regarding the collection, delivery or ordering of the mortar.
Demonstrations
We regularly organize practical training sessions in small groups, supervised by professionals in the sector who will provide you with all the advice you need and inform you of the latest innovations. Every week, we also organize demonstrations in partnership with our flagship brands on topics such as the installation of roof insulation, the application of cement mortar or the installation of doors. Our partners often offer special discounts there that are only valid on the day of the demo.